| | |
| --- | --- |
| Tennis Courts | |
We build tennis courts with surface made of clay or synthetic grass
Due to expand or hide the information, please click on
or on inscription
Basic information about Tennis Courts
Standard tennis court is a rectangle with a length of 23.77 m (78 ft) and a width of 8.23 m (27 ft) to play single or 10,97 m (36 ft) to play doubles matches. In addition, you need include clear space around the court (at least 5,50 m behind baseline) and at least 3,05 m on the sides. Consequently, the whole tennis court is rectangle of 34.80 m to 17.10 m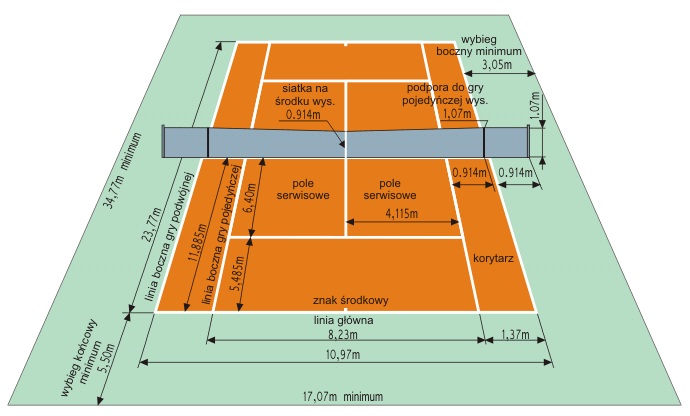 In the case of the construction outdoor courts, the desirable orientation is North/South. The reason of that is to avoid background glare in the morning or evening.
Synthetic grass courts (artificial turf)
More and more popular are the synthetic grass courts. The main advantage of such tennis courts, compering to clay or natural grass courts, is the reduction of maintenance. They do not require constant leveling, irrigation, or other permanent work to maintain high levels of quality and what is more. they wear out very slowly. Another advantage of such courts is that they do not soil environment and there is not everywhere spread clay dust. This increases the comfort of such courts for all its users.

Advantages of synthetic grass courts:
ease of maintance
no dirt/clay dust
ability to perform slides on the court
a high level of cushioning the joints during the game
low injurability
Clay courts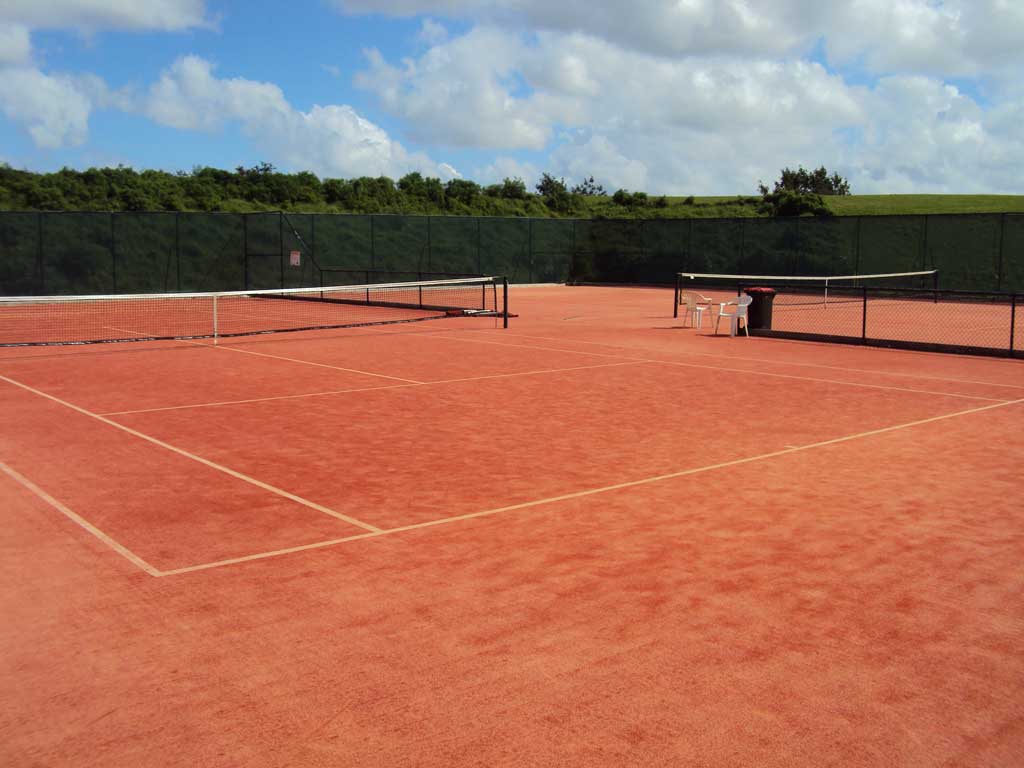 Clay courts are still the most popular type of tennis courts in many countries around the world, including Poland. The name is due to the mix of the characteristic red color representing the top layer of the court. The clay courts are among the least injuryable tennis fields. With its natural cushioning and ability to perform on them slides significantly reduce the risk of injury. Another advantage thereof is that it is made of natural materials, which does not disturb the biological equilibrium at their inception.
Advantages:
a high level of cushioning the joints during the game
low injurability
ability to perform slides on the court
natural materials
Disadvantages
hard and expensive maintance
need of maintance work after every game
maintain the proper humidity court is problematic in winter
spread of the clay what soiling surrounding